Promoting Responsible Social Research
Vision and Objectives
Maintaining and Improving the Quality of Social Research
Analyses of various data collected through social survey constitute a basic foundation, or social infrastructure, in contemporary society. There are many types of social surveys: public opinion research that influences political trends, official statistics used by national and local governments as grounds for developing and implementing policies, scholarly research that can elucidate social structures and changes therein, as well as marketing research used by businesses for their own economic activities.
The Japanese Association for Social Research (JASR) was founded by researchers engaged in academics and education in the field of social research at universities and other institutions. The objective of JASR is to improve the quality of social survey research and to establish the public trust in social survey research. Its core activity is the Social Researcher Certification Program which aims, by granting the Certificate to individuals who have sufficient professional social research skills and knowledge, to enhance the professional quality of social research and contribute to the dissemination of accurate understanding about social research among the public.
---
History
Establishment and Development of the Certification Program
The Program of Certified Social Researcher has a unique history. In 1995, the School of Sociology at Kwansei Gakuin University, renowned for having the longest history and largest graduating classes as a sociology faculty in Japan, launched a program to certify qualified social researchers for students who completed a specific set of courses relating to social research methods. Many other universities followed Kwansei Gakuin in adopting a campus-level social researcher certification program.
Because these programs only offered accreditation at the individual universities, many sociology researchers began to promote the idea that a certification program beyond individual universities should be established. In response to such momentum, the Japan Sociological Society consulted with the Japan Society of Educational Sociology and the Behaviormetric Society of Japan. In 2003, the three societies served as parental bodies in the birth of the Japanese Certification Board for Social Researcher. At last, the Program of Certified Social Researcher commenced to provide certification authorized by all three academic societies.
In 2008, the Japanese Certification Board for Social Researcher reorganized itself as the Japanese Association for Social Research and became independent of the three societies. As a general incorporated association, JASR is now conducting extensive activities relating to social research and operates the Program of Certified Social Researcher as its principal project.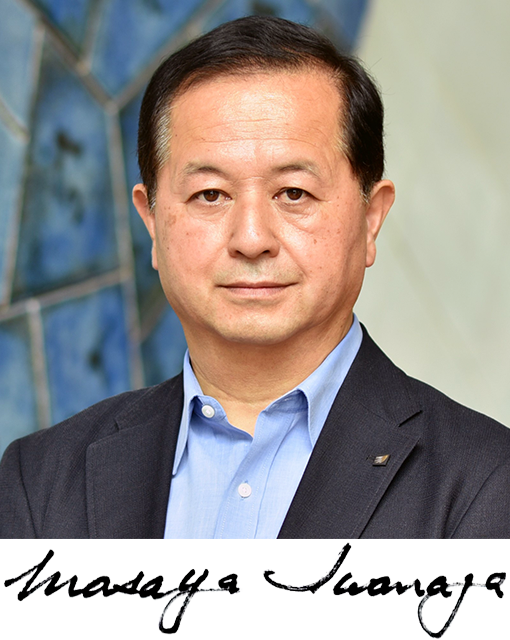 Masaya Iwanaga
President, Japanese Association for Social Research
(Vice President, The Open University of Japan)
Message from the President
In the contemporary society, where people enjoy freedom in their consciousness and actions as we see in Japan, timely information that affects people's behavior or lifestyle should be readily available at our disposal. To maintain a sound operation of the democratic political system, for instance, a public opinion poll is indispensable in understanding the trends of public opinion and making the best use of the obtained information in policy planning. Various types of economic indicators and statistics, including GDP consist of data regarding corporate activities as well as data collected from households and individuals regarding their livelihood or life conditions. For the planning of effective welfare policies or child care support programs by the nation or municipal governments, not only the data collected mainly by the national census concerning population and family structures, but also the detailed survey data regarding people's lifestyle or awareness of occupation and parenting should be fully utilized. Likewise, understanding the situation of supply and demand in the market to formulate a well-balanced corporate management strategy wherein the data obtained by market research are indispensable is crucial. Many of the most effective means to collect such data mentioned above are available in the field of social research. Therefore, social research should be entitled as one of the most vital social infrastructures in the contemporary society.
As for purely academic fields, various social research undoubtedly supports investigations in many areas, including social sciences and human sciences. For example, in research regarding the influence of the recent COVID-19 pandemic upon people's lives and minds, qualitative social research focused on interviews with patients, ex-patients, families, and medical practitioners should be useful. Likewise, implementing regular large-scale surveys in terms of the correlation among highly representative academic record samples and occupation, along with their parents' academic records and occupation to accumulate data and analyze the trend will serve the investigation aimed at confirming whether the post-WWII society in Japan has improved or not in terms of people's equality in social classes (the Social Stratification and Social Mobility Survey: SSM Survey). Needless to say, the results of adequately executed social research would serve as an indispensable scientific basis in academic study.
The Japanese Association for Social Research (JASR) is a non-profit organization established in December 2008. The main goal of JSAR is to improve the quality of social research by contributing to the support activities and maintaining and enhancing the level of social research education at universities; promoting investigations and employing social researchers; and widely propagating research findings to create public awareness on the significance of social research.
To this end, JASR has formulated qualification standards for the quality of social research-associated curriculum at colleges and universities and set its core activity as the Social Researcher Certification Program that certifies students who finish the relevant curriculum as Social Researchers (undergraduate level) and Advanced Social Researchers (master's level). It also regularly holds public meetings including lecture meetings, seminars, workshops, and symposiums as part of its outreach program to propagate the techniques and knowledge concerning social research. Furthermore, it offers award programs for excellent social research-related accomplishments and educational practices. The JASR journal for experts and researchers in the field of social studies, titled "Advances in Social Research (in Japanese only)," has been biannually issued since September 2008.
The Japanese Certification Board for Social Researchers, a former organization of JASR, began its Social Researcher Certification Program in 2004. Since then, we have certified over 30,000 Social Researchers and 3,000 Advanced Social Researchers, thanks to the generous support and cooperation from a considerable number of experts, research institutes, academic societies, business corporations, and relevant organizations associated with the field of social research. We believe that JASR has made a valuable contribution to the establishment of "social research as social infrastructure".
Social research is becoming ever more significant, while challenges in conducting high-quality surveys are increasing. Accordingly, the significance of JASR's role is growing. Within this context, the key themes that require our immediate attention should be to increase public awareness on the significance of social research and develop improved survey methods that target the demands of contemporary society. We, as JASR, will continue our efforts to contribute to the further development of social research and social research education by organizing projects and activities to serve social needs.
July 2020
Organization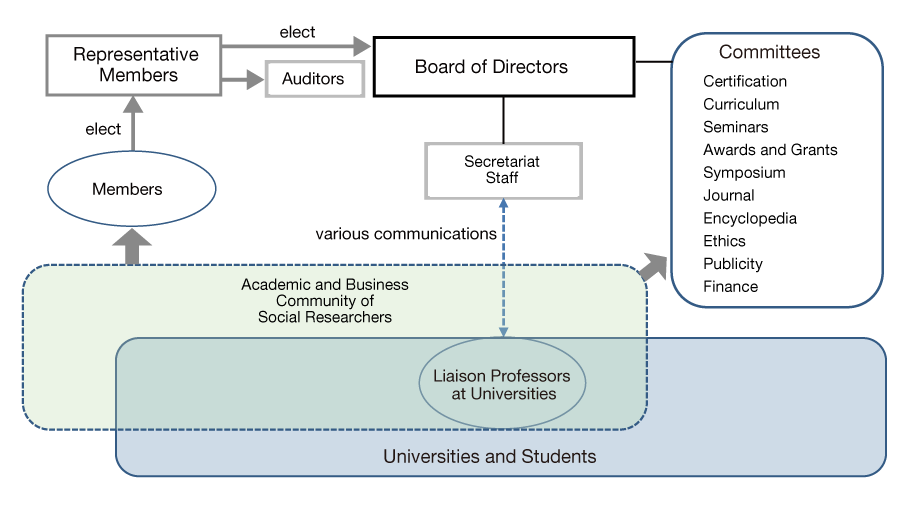 Organization
The JASR is founded on academic and business communities involved in social research as well as on university faculties and departments that undertake social research education.
The Association is comprised of members and representatives. Members are advanced professionals in social research studies, education and/or practices. Representatives are selected from the members by vote. The legal status of JASR is a general incorporated association. The official constituent individuals are representatives.
The general activities of the Association are directed and managed by the Board of Directors elected at a general meeting by representatives. The committees and secretariats are in charge of various JASR activities and deal with practical affairs. In addition to board members, representatives and members of the Association, many non-member professional social researchers from academic and business communities are working in cooperation with JASR's activities.
Liaison with University Education
The Program of Certified Social Researcher is targeted principally at students in social research courses taken at universities. Each university (or department) participating in the Program appoints a liaison professor as a contact person for managing cooperation, collaboration and exchange.
These liaison professors from the universities take on various responsibilities: (a) They organize the social research courses in the university or department and submit to JASR for course qualification each year, (b) They collect the applications of students for certification and submit them to JASR. These must be filled out by undergraduate/graduate students who have completed the official courses at their universities and meet other qualification conditions, and (c) For closer cooperation with JASR, they represent their own university or department by communicating various opinions and requests on JASR regarding the Program of Certified Social Researcher.
Eight Activities

<![IGNORE[]]>