Promoting Responsible Social Research
Vision and Objectives
Maintaining and Improving the Quality of Social Research
Analyses of various data collected through social survey constitute a basic foundation, or social infrastructure, in contemporary society. There are many types of social surveys: public opinion research that influences political trends, official statistics used by national and local governments as grounds for developing and implementing policies, scholarly research that can elucidate social structures and changes therein, as well as marketing research used by businesses for their own economic activities.
The Japanese Association for Social Research (JASR) was founded by researchers engaged in academics and education in the field of social research at universities and other institutions. The objective of JASR is to improve the quality of social survey research and to establish the public trust in social survey research. Its core activity is the Social Researcher Certification Program which aims, by granting the Certificate to individuals who have sufficient professional social research skills and knowledge, to enhance the professional quality of social research and contribute to the dissemination of accurate understanding about social research among the public.
---
History
Establishment and Development of the Certification Program
The Program of Certified Social Researcher has a unique history. In 1995, the School of Sociology at Kwansei Gakuin University, renowned for having the longest history and largest graduating classes as a sociology faculty in Japan, launched a program to certify qualified social researchers for students who completed a specific set of courses relating to social research methods. Many other universities followed Kwansei Gakuin in adopting a campus-level social researcher certification program.
Because these programs only offered accreditation at the individual universities, many sociology researchers began to promote the idea that a certification program beyond individual universities should be established. In response to such momentum, the Japan Sociological Society consulted with the Japan Society of Educational Sociology and the Behaviormetric Society of Japan. In 2003, the three societies served as parental bodies in the birth of the Japanese Certification Board for Social Researcher. At last, the Program of Certified Social Researcher commenced to provide certification authorized by all three academic societies.
In 2008, the Japanese Certification Board for Social Researcher reorganized itself as the Japanese Association for Social Research and became independent of the three societies. As a general incorporated association, JASR is now conducting extensive activities relating to social research and operates the Program of Certified Social Researcher as its principal project.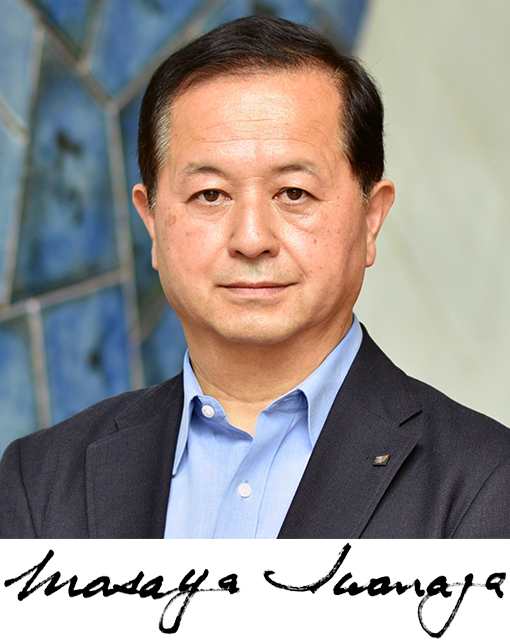 Kazuo Seiyama
President, Japanese Association for Social Research
(Professor Emeritus, The University of Tokyo)
Message from the President
The Japanese Association for Social Research (JASR) has several objectives. Among others, the association works to improve the level of social research education at colleges and other higher education institutions. The association also aims to advance social research methodology and social research-based studies among researchers and staff. Other goals include maintaining and raising the quality of social research conducted in society and facilitating the general public's understanding about the significance of social research.
Modern society is full of complexity. To ensure decent daily functioning of such a complex society, social research plays an extremely important role. For instance, it is desirable that the democratic political system develops in a healthy manner. For this to happen, opinion polls designed to survey people's political awareness and trends in public opinion are essential, the results of which inform political deliberation. Another less generally known example of the usefulness of social research are surveys conducted to collect data for economic statistics. Information collected from households and individuals, as well as data on business activities, serve as fundamental data in creating various economic statistics, including GDP. Moreover, to develop policies and programs for social welfare, including child support services, it is necessary to use detailed survey data about people's lives and perspectives, in addition to the population and household data typically obtained by National Census.
Furthermore, various social research results support academic studies and, through academic studies, contribute to society. For many scientific studies social research contributes as an important method. For example, one such study may elucidate, utilizing qualitative social research methods, the type of and reason for problems that exist in actual hospitals and personal care facilities. This can be accomplished through long-term careful observations of the manner in which patients, nurses, careworkers, and physicians act, speak, and establish communication. The results of these studies can be used when discussing improvements to existing medical and personal care systems.
The Japanese Association for Social Research runs various activities to help develop the social practice known as social research, a field of high public significance. Certifying the qualifications for Social Researcher and Advanced Social Researcher is at the core of the Association's activities. JASR certifies the quality of social research curricula delivered by colleges throughout Japan, as well as the undergraduate- and post-graduate students pursuing those courses. JASR also publishes the journal Advances in Social Research as a forum for specialists in social research and organizes research meetings, workshops, and seminars for expert researchers. Furthermore, the Association grants awards to researchers who conduct social research-based studies.
This year marks the 13th anniversary of the certification program, which was inaugurated by the Japanese Certification Board for Social Researchers, the predecessor of the Association. Since then, we have achieved substantial results, certifying over 24,000 Social Researchers and more than 2,700 Advanced Social Researchers. This was made possible due to the support and cooperation of many specialists, research institutions, academic associations, businesses, and other organizations involved in social research. JASR is confident that these efforts have contributed to a stronger foundation of social research in society.
Nowadays, the importance of social research is ever increasing. Nonetheless, conducting high quality surveys has become increasingly difficult. Consequently, the Japanese Association for Social Research needs to play a more and more prominent role. Specifically, raising public awareness about the significance of social research and improving the basic research framework for social research are among the major challenges that JASR must undertake. The Japanese Association for Social Research intends to continuously organize activities to advance social research and social research education in response to societal expectations to JASR. In this respect, your continued support is greatly appreciated.
June 2016
Organization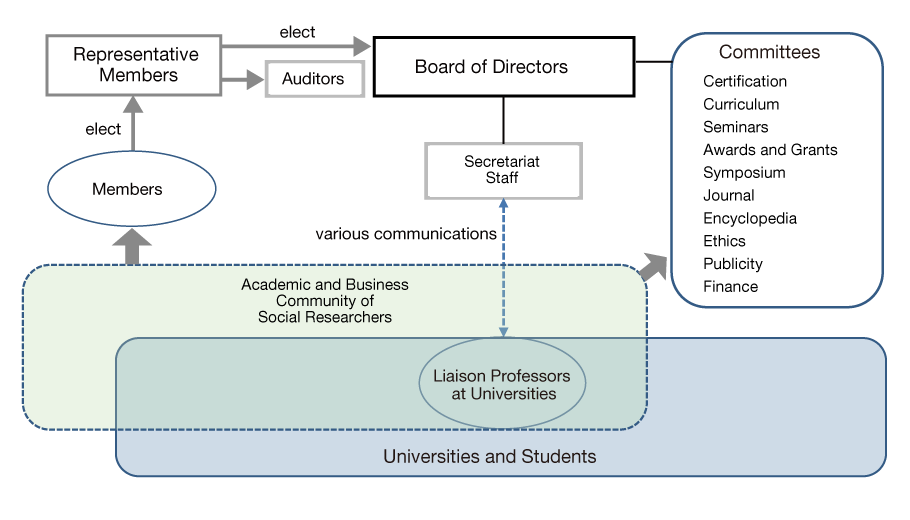 Organization
The JASR is founded on academic and business communities involved in social research as well as on university faculties and departments that undertake social research education.
The Association is comprised of members and representatives. Members are advanced professionals in social research studies, education and/or practices. Representatives are selected from the members by vote. The legal status of JASR is a general incorporated association. The official constituent individuals are representatives.
The general activities of the Association are directed and managed by the Board of Directors elected at a general meeting by representatives. The committees and secretariats are in charge of various JASR activities and deal with practical affairs. In addition to board members, representatives and members of the Association, many non-member professional social researchers from academic and business communities are working in cooperation with JASR's activities.
Liaison with University Education
The Program of Certified Social Researcher is targeted principally at students in social research courses taken at universities. Each university (or department) participating in the Program appoints a liaison professor as a contact person for managing cooperation, collaboration and exchange.
These liaison professors from the universities take on various responsibilities: (a) They organize the social research courses in the university or department and submit to JASR for course qualification each year, (b) They collect the applications of students for certification and submit them to JASR. These must be filled out by undergraduate/graduate students who have completed the official courses at their universities and meet other qualification conditions, and (c) For closer cooperation with JASR, they represent their own university or department by communicating various opinions and requests on JASR regarding the Program of Certified Social Researcher.
Eight Activities

<![IGNORE[]]>