Promoting Responsible Social Research
Vision and Objectives
Maintaining and Improving the Quality of Social Research
Analyses of various data collected through social survey constitute a basic foundation, or social infrastructure, in contemporary society. There are many types of social surveys: public opinion research that influences political trends, official statistics used by national and local governments as grounds for developing and implementing policies, scholarly research that can elucidate social structures and changes therein, as well as marketing research used by businesses for their own economic activities.
The Japanese Association for Social Research (JASR) was founded by researchers engaged in academics and education in the field of social research at universities and other institutions. The objective of JASR is to improve the quality of social survey research and to establish the public trust in social survey research. Its core activity is the Social Researcher Certification Program which aims, by granting the Certificate to individuals who have sufficient professional social research skills and knowledge, to enhance the professional quality of social research and contribute to the dissemination of accurate understanding about social research among the public.
---
History
Establishment and Development of the Certification Program
The Program of Certified Social Researcher has a unique history. In 1995, the School of Sociology at Kwansei Gakuin University, renowned for having the longest history and largest graduating classes as a sociology faculty in Japan, launched a program to certify qualified social researchers for students who completed a specific set of courses relating to social research methods. Many other universities followed Kwansei Gakuin in adopting a campus-level social researcher certification program.
Because these programs only offered accreditation at the individual universities, many sociology researchers began to promote the idea that a certification program beyond individual universities should be established. In response to such momentum, the Japan Sociological Society consulted with the Japan Society of Educational Sociology and the Behaviormetric Society of Japan. In 2003, the three societies served as parental bodies in the birth of the Japanese Certification Board for Social Researcher. At last, the Program of Certified Social Researcher commenced to provide certification authorized by all three academic societies.
In 2008, the Japanese Certification Board for Social Researcher reorganized itself as the Japanese Association for Social Research and became independent of the three societies. As a general incorporated association, JASR is now conducting extensive activities relating to social research and operates the Program of Certified Social Researcher as its principal project.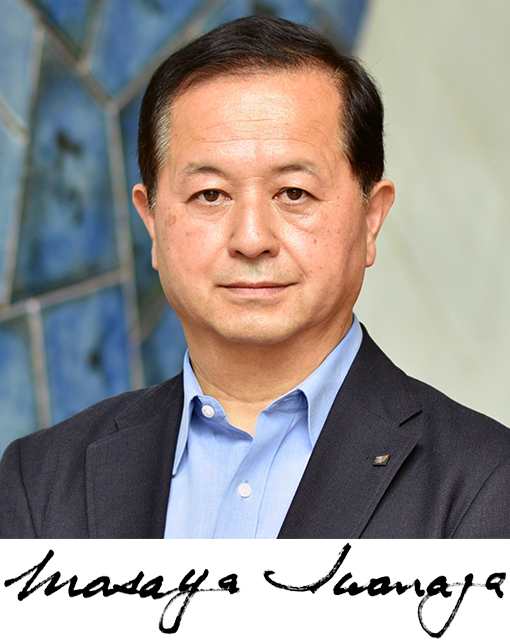 Hiroshi Akuto
President, Japanese Association for Social Research
(Former President of Toyo Eiwa University and Professor Emeritus, The University of Tokyo)
Message from the President
JASR contributes to the promotion of social research in Japan
The Japanese Association for Social Research (JASR) is a private association working to improve the quality of social research in Japan. In keeping with this objective, we have launched the certification program.
A Certificate of Social Researcher is granted to students who have acquired basic social research knowledge and have received the relevant practical social research training. The purpose of this certification is to nurture students as individuals who are sufficiently exposed to statistics and who have obtained a standard ability to understand and use social research data appropriately in their working lives. Nowadays, even a salesperson is required to be data-minded and to be able to use data in persuading sponsors, winning competitions and securing work contracts. Annually some 3,000 students from various universities, approximately 20,000 students as the cumulative total, enter the workforce holding the Certificate of Social Researcher upon graduation. These encouraging figures are highly reassuring to JASR.
The Certificate of Advanced Social Researcher is a certification for professional researchers who are qualified as experts of social research. The Certificate is granted to graduate students who have been trained in advanced social research methods at universities. It is also granted, only through a strict screening, to professors and researchers in universities, as well as to practical professionals in press, private survey/research organizations or central/local governments who hold expertise in professional social research. To date, the number of specialists who have achieved this certification is at nearly 2,500.
In addition to the certification program, the Association issues its journal Advances in Social Research biannually. It holds symposiums and lecture meetings and grants funding to practical research training programs. JASR also presents its Association Awards for outstanding contributions in the field of social research.
Up to now, JASR has placed primary importance on its co-operation with academia and professional social researchers. We are now strengthening collaboration with various other organizations in Japan and eventually overseas organizations in Asia, Europe and America. As part of such activities, in 2013, JASR implemented two projects to commemorate its 10th anniversary. One is the compilation and publication of the Encyclopedia of Social Research and the other is the holding of a joint symposium with the Japan Association for Public Opinion Research and the Japan Marketing Research Association.
As for its future, the Association hopes to continue to develop its activities, providing social research training and assisting with social surveys at local governments as well as improving the understanding of social research among the general public. JASR also aims to be internationally active, collaborating with overseas research organizations and specialists to achieve its ultimate goal of promoting social research in Japanese society.
July 2014
Organization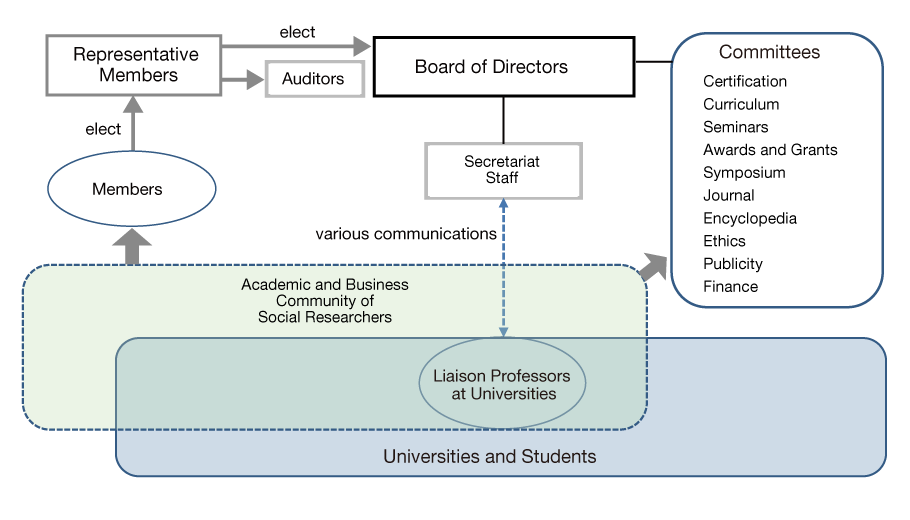 Organization
The JASR is founded on academic and business communities involved in social research as well as on university faculties and departments that undertake social research education.
The Association is comprised of members and representatives. Members are advanced professionals in social research studies, education and/or practices. Representatives are selected from the members by vote. The legal status of JASR is a general incorporated association. The official constituent individuals are representatives.
The general activities of the Association are directed and managed by the Board of Directors elected at a general meeting by representatives. The committees and secretariats are in charge of various JASR activities and deal with practical affairs. In addition to board members, representatives and members of the Association, many non-member professional social researchers from academic and business communities are working in cooperation with JASR's activities.
Liaison with University Education
The Program of Certified Social Researcher is targeted principally at students in social research courses taken at universities. Each university (or department) participating in the Program appoints a liaison professor as a contact person for managing cooperation, collaboration and exchange.
These liaison professors from the universities take on various responsibilities: (a) They organize the social research courses in the university or department and submit to JASR for course qualification each year, (b) They collect the applications of students for certification and submit them to JASR. These must be filled out by undergraduate/graduate students who have completed the official courses at their universities and meet other qualification conditions, and (c) For closer cooperation with JASR, they represent their own university or department by communicating various opinions and requests on JASR regarding the Program of Certified Social Researcher.
Eight Activities

The Japanese Association for Social Research carries out the following eight activities.
(Committee in charge shown in parenthesis)
1. Granting Certifications
JASR offers certification to university students, graduate students and professional researchers after examination of academic records for completed social research courses, individual research papers or other academic achievements. Conditions for granting the Certificate differ between the two Certificate programs. (Certification Committee)
2. Course Qualification
Social research courses provided at each university are certified after a review of their compliance to the Standard Curriculum specified by the Association. (Curriculum Committee)
3. Seminars
Seminars equivalent in content to the Standard Curriculum are provided to graduate students and young researchers who are unable to take courses on campus. This assistance further supports them in achieving certification. (Seminars Committee)
4. Grants
Upon examination and the selection process, grants-in-aid are offered to practical social research training courses at universities to help cover expenses. This is meant to further encourage excellence in social research education. (Awards and Grants Committee)
5. Symposiums and Lecture Meetings
Symposiums and lecture meetings relating to social research are held regularly. (Symposium Committee)
6. Awards
Young researchers are honored for their accomplishments in conducting outstanding studies or writing papers in the area of social research. (Awards and Grants Committee)
7. Consulting
In order to help raise the overall level of social research quality, JASR provides training and consulting programs for individuals, organizations and institutions conducting social research. (Publicity Committee)
8. Publications
JASR edits and publishes its journal, Advances in Social Research. In addition, the Association has also compiled the Encyclopedia of Social Research. (Journal Committee and Encyclopedia Committee)